Welcome to the historic Linville Hotel
The Linville Hotel, a historic country pub, is situated on the scenic Brisbane Valley Rail Trail spanning 161km. Nestled in the picturesque Brisbane Valley, surrounded by majestic mountains, the charming town of Linville is located 1.5 hours away from Brisbane, the Sunshine Coast, and Toowoomba.
Visitors have the option to either camp for a small donation fee across the road or take advantage of our hotel accommodations. We serve delicious pub meals for lunch and dinner every day of the week and offer vibrant live music to chill out to on the weekends.
We warmly welcome cyclists, hikers, and horse riders exploring the trail. We are a favoured destination for day-trippers, trail riders, road bikers, and car clubs. Whether you choose to spend a day or an entire weekend, The Linville Hotel ensures a memorable experience.
Just across the road from our establishment, you'll find the old disused railway station and museum, as well as a popular camping area equipped with public toilets.

Dating back to 1887, our hotel boasts a rich history. The region surrounding the hotel showcases the breathtaking beauty of Australian cattle country, teeming with remarkable birdlife, deer, the meandering Brisbane River, and the captivating Rail Trail.
A historic pub, located on the iconic Brisbane Valley Rail Trail
Explore the Brisbane Valley Rail Trail, spanning an impressive 161 km and proudly holding the title of Australia's longest rail trail.

Queensland's Great Adventure Rail Trail is accessible throughout the year, offering a delightful off-road and traffic-free experience. Just an hour and a half distance from Brisbane, you'll be greeted by Southeast Queensland's expansive skies and breathtaking landscapes. Along the trail, you'll discover charming cafes, bars, galleries, and shops spaced approximately every 25km.

Join the ranks of thousands who have fallen in love with the Brisbane Valley Rail Trail, whether you prefer cycling, horseback riding, or leisurely strolls. Gather your friends and immerse yourself in the true essence of Queensland's countryside.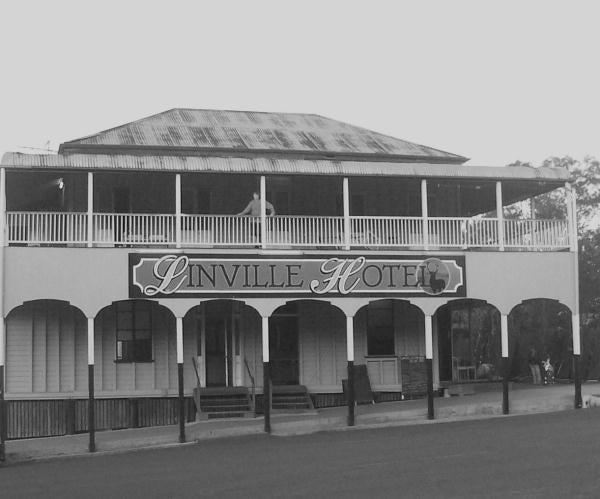 History
"First known as the Moorabool Hotel, the now Linville Hotel was originally located between Toogoolawah and Harlin and was the first hotel in the Toogoolawah district.

The township of Moorabool was obliged to change its name to Kannangur and finally Yimbun because of confusion with postal addresses. So the hotel was renamed the Kannangur Hotel.

Then it was moved to its present location in 1911 by bullocks when the railhead was extended. Local history has it that the intention was to take this hotel over the Blackbutt Range to Benarkin to join the new railway terminus that opened there on 8 May, 1911, but the Range defeated the bullock teams and it was relocated to Linville instead."
Previously known as the McCallum's Club Hotel

Arrival of the first train at Linville

Previously known as the Pioneer Hotel

The Linville Hotel
- Previous logo (colour)